As a proud ENERGY STAR partner, Columbia Builders has always been dedicated to meeting and exceeding expectations set by the program. Many people may be surprised to see that the ENERGY STAR guidelines are quite flexible and lenient. At the core of our mission, our home builders use high quality materials and innovative construction to provide outstanding, energy-efficient homes to Maryland residents. Here are some facts we want you to know about ENERGY STAR standards along with Columbia Builders' take on each measure.
ENERGY STAR Allows Air Ducts in Attics
Version 3.1 ENERGY STAR Reference Design Home lists several elements, including ducts in conditioned spaces. Meeting every element requirement is not mandatory, as builders have the option to trade off measures to make up for other areas to achieve a desirable ENERGY STAR ERI Target score. In a case with air ducts in attics, an unconditioned space, it would be permissible as long as another approved measure is used elsewhere to offset this allowance.
At Columbia Builders, even before ENERGY STAR was developed, in the 45+ years of building homes, we have never placed an air handler (furnace) in an unconditioned space (i.e. attic).  When ENERGY STAR issued Version 3.1, we had little to change to meet the "no duct work in unconditioned spaces" standard. Through innovative design, we developed a way to have all duct work within conditioned space. Our unique approach was given awards by BGE and ENERGY STAR. We use no "trade off" measures such as those allowed by ENERGY STAR. Ask your Sales Consultant for more details.
Infiltration Rate Can Be Flexible
Air-sealing measures are mandatory for every homebuilding project. This is assessed through the blower-door result. While the Reference Design Home includes a benchmark infiltration rate, again, it isn't a mandatory measure for all partners to achieve. Once more, offsetting measures are allowed should air-sealing measures fall short on their designated performance.
In 1975, when building our 1st project, we began air sealing our homes. We utilized materials available at that time (i.e. caulk) to seal all the areas that are now standard sealing requirements in an ENERGY STAR built home. At the time, it was somewhere above 45 tubes of caulk and 2 days of a person's time to accomplish what our professional air sealer now does with the latest sealants in 3-4 hours with a crew of two. Years before codes required a blower door test, we strived to have minimum air leakage in our homes. Every blower door test results in leakage rates well below the required limits. Like in golf, the lower your blower-door test, the better you are — and we do keep score.
ENERGY STAR Certified Fans Are Not Required in Every Bathroom
The standard in home building includes installing an exhaust fan in each bathroom even if the fans are not ENERGY STAR Certified. 
In our Columbia Builders homes, we utilize an ENERGY STAR whole house ventilation system in addition to installing an ENERGY STAR Certified Fan in every bathroom.
Raised-Heel Truss is Not Required
Depending on a home design, the roof's slope can prevent insulation from filling out the full height of an attic perimeter. A raised-heel truss can fix this problem, although ENERGY STAR's minimum requirement can be met with a standard design and high-density insulation.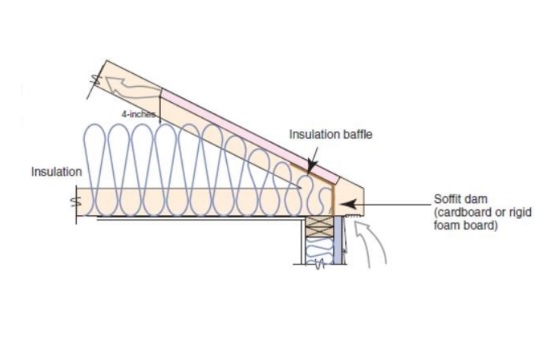 The above rendering which is allowed by ENERGY STAR may look good on paper but to accomplish this in the real world takes highly technical and very dedicated mechanics. Why not just utilize a raised-heel truss which ensures that the goals of (1) installing plenty of insulation over the top of perimeter walls and (2) still providing plenty of space for the much needed attic ventilation. 
In 1979, Columbia Builders began using a raised-heel truss.  At the time it was called an "Arkansas Truss," developed as part of a sponsored energy home program.  
Design and Build Your Dream Home with Columbia Builders!
Columbia Builders is the home builder of choice in Howard County, offering homes in Ellicott City, Elkridge, Laurel, Columbia, Marriottsville, Fulton, Clarksville, Dayton, and Brookeville. No matter what the size and scope of your project, we have the skills, experience, and resources needed to bring your vision to life. We offer a level of customization that is truly unmatched and are committed to using materials and craftsmen of the highest quality, so you can trust that your new home is built to last.
If you're ready to invest in a home that is built with your needs in mind, trust in us. Give Columbia Builders a call today at 410-730-0215 or use our contact form here.  You can also keep up with us on Facebook, Twitter, Houzz, and Youtube, and don't forget to check back on our blog for more tips and information!