At Columbia Builders, we have a long history of providing the highest-quality custom-built homes in Howard County. We've spent more than 40 years building landmark communities and one-of-a-kind homes throughout Maryland and southern Pennsylvania.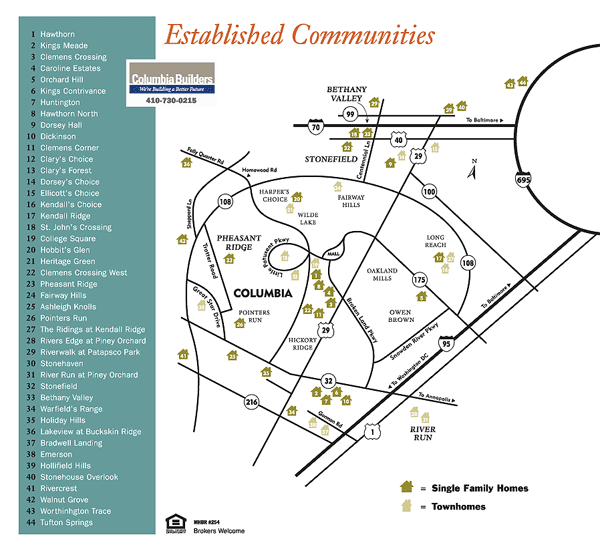 A History of Building Community
We have earned a reputation as the best home builder in Howard County thanks to our commitment to providing the best customer service and highest-quality craftsmanship. We are committed to building homes that are truly built to last and we partner with manufacturers who share our commitment to quality. Here are just some of the many communities and special projects we've participated in over the years:
Hawthorne
Kings Meade
Clemens Crossing
Caroline Estates
Orchard Hill
Kings Contrivance
Huntington
Hawthorn North
Dorsey Hall
Dickinson
Clemens Corner
Clary's Choice
Clary's Forest
Dorsey's Choice
Ellicott's Choice
Kendall's Choice
Kendall Ridge
St. John's Crossing
College Square
Hobbit's Glen
Heritage Green
Clemens Crossing West
Pheasant Ridge
Fairway Hills
Ashleigh Knolls
Pointers Run
The Ridings at Kendall Ridge
Rivers Edge at Piney Orchard
Stonefield
Bethany Valley
Warfield's Range
Holiday Hills
Lakeview at Buckskin Ridge
Bradwell Landing
Emerson
Hollifield Hills
Stonehouse Overlook
Rivercrest
Walnut Grove
Worthington Trace
Tufton Springs
Grovemont Overlook
Pine Valley
Clearwater Crossing
Simons Acres
Chapel Estates
Whether you're interested in purchasing a custom home in one of our currently available locations or you'd like to learn more about building a home on your own lot, Columbia Builders is the best choice. With a wide range of home designs to choose from and nearly endless options to personalize, we have what it takes to build a home you can truly call your own. To learn more about building a new custom home with us or to visit our model home, give us a call at 410-730-0215 today.
Columbia Builders is the most trusted provider of luxury new homes in Howard County, including Ellicott City, Marriottsville, Glenwood, Clarksville, Fulton, Dayton, Laurel, Columbia, and Brookeville.