With the days slowly turning warmer, you might be contemplating a new deck, patio furniture, gardening, or even your summer vacation! Thinking about your air conditioning system is not nearly as fun, but it needs your attention, too. The last thing any of us want to face is the first uncomfortably warm day of the season in which nothing happens when your turn on the a/c!  Taking a proactive approach is always your best course, so go ahead and get that jumpstart on summer, so that your system runs smoothly all season.
When Should I Schedule a Checkup?
Now!  An annual HVAC maintenance check-up is always advisable, and long before the hot summer days roll around.  Don't risk an untimely and uncomfortable breakdown – schedule a diagnostic check in the early spring, before the professionals are booked with repairs.
What Maintenance Needs to Be Done?
When your HVAC technician visits, there are a few key items you'll want addressed.  Checking the refrigerant levels is always a necessity, along with cleaning the evaporator and condenser coils (which will increase performance).  The visit should include a look at the electrical components and controls that make the system easy for you to use. Your technician should also calibrate the thermostat so you can accurately set your desired temperature. Filters should be checked and, when necessary, cleaned or replaced.
What Can I Do?
Properly maintaining your system will ensure better performance and extend its life expectancy.  Outside, keep landscaping from over-growing your unit. It makes it difficult to work on and can cause serious trouble if plants begin growing among the components. That said, a strategically placed large tree – away from your home, in the yard – that shades your home can keep it cooler during the summer, reducing your system's workload.   Inside, practices such as keeping blinds and curtains closed during the hottest part of the day, setting your thermostat higher when you are not at home, and changing your filters monthly all do their part to keep your system running at peak efficiency. These habits will also save energy and money!
Design and Build Your Dream Home with Columbia Builders!
Columbia Builders is the home builder of choice in Howard County, offering homes in Ellicott City, Elkridge, Laurel, Columbia, Marriottsville, Fulton, Clarksville, Dayton, and Brookeville. No matter what the size and scope of your project, we have the skills, experience, and resources needed to bring your vision to life. We offer a level of customization that is truly unmatched and are committed to using materials and craftsmen of the highest quality, so you can trust that your new home is built to last.
If you're ready to invest in a home that is built with your needs in mind, trust in us. Give Columbia Builders a call today at 410-730-0215 or use our contact form here.  You can also keep up with us on Facebook, Twitter, Houzz, and Youtube, and don't forget to check back on our blog for more tips and information!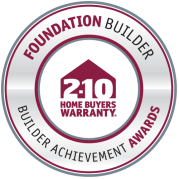 Columbia Builders is has been recently recognized with the lifetime achievement Foundation Builder Award as part of the 2018 Annual Builder Achievement Awards Program through 2-10 Home Buyers Warranty. In addition to providing insurance-backed structural warranties, 2-10 HBW recognizes builders with a long-standing tradition of providing exceptional customer service and protection to their home buyers. The Foundation Builder Award is reserved for builders who have demonstrated a steadfast commitment to improving the housing industry. We are honored to have received this award!