Wishing everyone a safe and happy holiday, along with a special note of heartfelt thanks to all of our homebuyers, past and present – we appreciate the opportunity to work with you!
Below is a delicious winter vegetable recipe we'd like to share…
a healthy and hearty side for the colder months ahead.
Roasted Balsamic Butternut Squash & Brussels Sprouts
An easy side dish perfect for Thanksgiving or any fall gathering.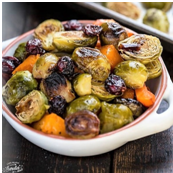 Ingredients
1 small butternut squash, peeled & cut into 1 inch chunks
2 cups Brussels sprouts, stems trimmed & sliced lengthwise in half
1/4 teaspoon sea salt
1/4 teaspoon black pepper
1/3 cup dried cranberries
2 1/2 tablespoons extra virgin olive oil, divided
1 tablespoon balsamic vinegar
1 tablespoon maple syrup
1/8 teaspoon ground cinnamon (optional or to taste)
1/8 teaspoon cayenne pepper (optional or to taste)
Instructions
Preheat oven to 425F degrees.  Line one or two baking sheets (depending on the size of your butternut squash) with parchment paper or foil, lightly greased with cooking spray.
Spread the butternut squash chunks and halved Brussels sprouts evenly on tray.
Drizzle 2 tablespoons of olive oil over vegetables and sprinkle with salt and black pepper.  Toss vegetables with your hands to distribute the oil evenly.
Roast the vegetables for 25 minutes, tossing them gently 1 to 2 times during the roasting time to ensure that they caramelize evenly on all sides.
Meanwhile, whisk together 1/2 tablespoon olive oil, balsamic vinegar, maple syrup, cinnamon, and cayenne pepper.  Add the dried cranberries onto baking sheet and toss the balsamic vinegar mixture evenly over vegetables.  Toss the vegetables gently until they are lightly dressed.  Roast for an additional 5-7 minutes until vegetables are tender and nicely browned.  Serve warm, lukewarm, or cold.
lifemadesweeter.com
Design and Build Your Dream Home with Columbia Builders
Columbia Builders is the home builder of choice in Howard County, offering homes in Ellicott City, Elkridge, Laurel, Columbia, Marriottsville, Fulton, Clarksville, Dayton, and Brookeville. No matter what the size and scope of your project, we have the skills, experience, and resources needed to bring your vision to life. We offer a level of customization that is truly unmatched and are committed to using materials and craftsmen of the highest quality, so you can trust that your new home is built to last.
If you're ready to invest in a home that is built with your needs in mind, trust in us. Give Columbia Builders a call today at 410-730-0215 or use our contact form here.  You can also keep up with us on Facebook, Twitter, Google+, Houzz, and Youtube, and don't forget to check back on our blog for more tips and information!